CBC.ca/Arts :new online magazine & Hammy Hamster
New @ CBC is CBC.ca/Arts which hopes to be "Canada's new online magazine covering ideas and trends in arts, media and entertainment". Canada's answer to Salon.com and Slate.com, eh! (If so they need a stylish name starting with S. Send you nomination's here!) Happy Happy, they have a RSS feed as well.

To start the ball rolling Hammy Hamster has been Inducted into the Alternative Canada Walk of Fame! for "honourable service in the field of children's entertainment and for giving buck-toothed rodents a voice."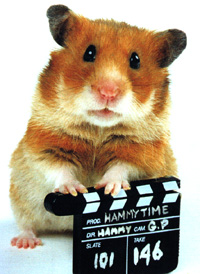 Hammy's big break came in 1959 with "Tales of the Riverbank". Sadly, Paul Sutherland, friend of and writer for Hammy Hamster, died May 15th 2004 at age 73.

Amongst the expected guests will be Casey and Finegan, The Friendly Giant with his pals Rusty the Rooster and Jerome the Giraffe, and old pal G.P. will visiting from Mojave, California where he's working on his current project (see episode 44).

Category: Canada